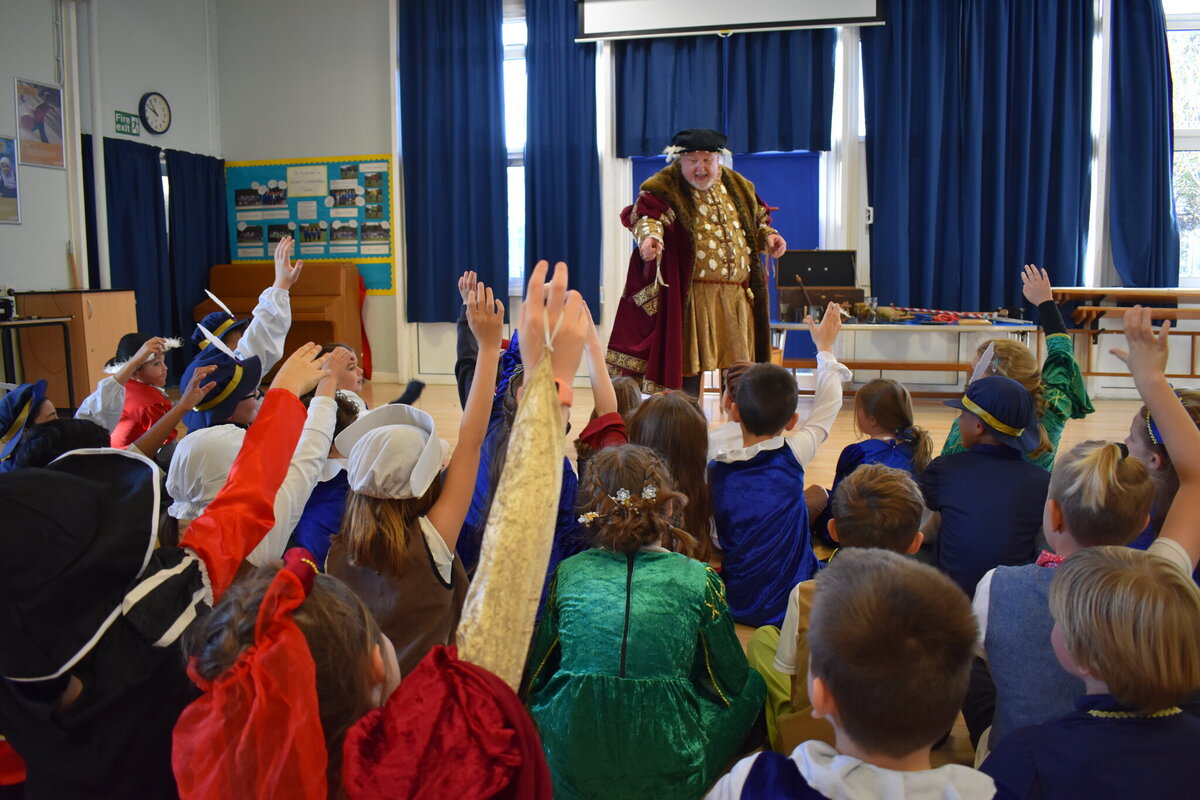 Year 4 had a 'royally' spectacular visit from His Majesty himself, King Henry VIII (aka Mike Farley from Essex), last week! They began the day listening intently to 'Henry' discuss all about the Tudor Dynasty, including the War of the Roses and the fate of each of Henry VIII's 6 wives.
Stories about how illnesses were treated were particularly disgusting and hilarious, as were stories about toilets and sewage! The children learned about the food eaten in Tudor times and how Henry VIII would eat using his dagger which he always carried with him. They found out how different education was for Tudor children and how differently teachers treated the children. Some children thought living in Tudor times would be fun, but most realised life was very difficult for most Tudors, particularly the poor.
After break, the children were challenged with a quiz about what they had listened to. We ('Henry' included) were all so impressed with the children's recall of what they had just learnt; several children even scored 20/20! The afternoon session delved into the world of Tudor sport, much to the children's excitement. They learnt about Tudor 'foot wrestling' and jousting, with some children getting the chance to have a go on the 'horses'.
Throughout the day, the children were really engaged and asked some thought-provoking questions to 'Henry'. Some examples included:
"Why did Henry ban Catherine from seeing her own daughter?"
"Why was Henry VIII not allowed to divorce Catherine of Aragon at first?"
"Who was your favourite wife?"
It was a fantastic, fun day and the children learned an enormous amount about Henry VIII and what life was like in Tudor times!

Next